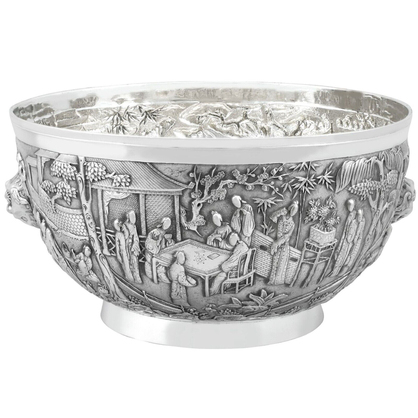 An exceptional, fine and impressive antique Chinese Export Silver bowl; an addition to our Asian silverware collection
Description
This exceptional Chinese Export Silver bowl has a circular form onto a plain circular spreading foot.
The body of this antique silver bowl is embellished with exceptional chased traditional oriental figural and structural designs, all on a matte background; it can be determined that such a frieze of figures relates to a historical event or folklore.
The decoration to the body incorporates two cast and applied handpieces, modelled in the form of figural masks.
The upper portion of this impressive bowl is encircled with a plain applied moulded border to the rim.
The Chinese silver hallmarks struck to the surface of the foot include:
Maker"s mark: Luen Wo
Character mark: 雄甡 (XIONG SHENG, Shanghai)
NOTE: We are grateful to Adrien von Ferscht for his help in identifying the hallmarks of this exceptional antique piece.
Condition
This antique Asian silver bowl is an exceptional gauge of silver, exceptional quality and in exceptional condition.
The chased decoration is all very sharp.
The CES hallmarks struck to the surface of the foot are all very clear; the hallmarks are struck deeply due to the exceptional gauge of silver.
Reflections in photographs may detract from the true representation of this antique silver Chinese serving bowl.
Dimensions
Diameter of rim 27cm/10.6"
Width across handpieces 28.2cm/11.1"
Height 14.7cm/5.8"
Weight
40.4 troy ounces/1258g
Date: Circa 1900
Origin: Shanghai, China
Maker: Luen Wo