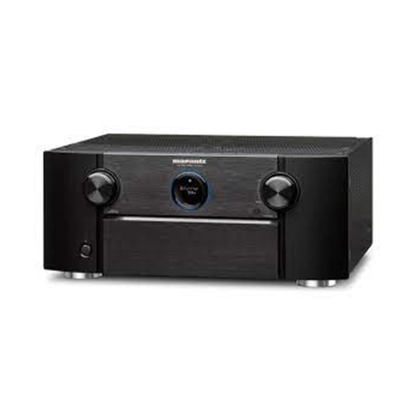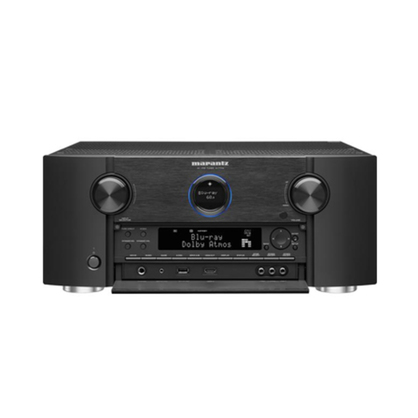 Marantz AV7702 Surround Sound Processor环绕声前级处理器
¥196.85
内容简介
Most people don't close their eyes while watching a movie (unless it's really boring). But if you equip your home theater with the Marantz AV7702, I recommend giving it a try. Listen to how this preamp/processor's Dolby Atmos® capability can place sounds accurately in the room. Keep 'em closed and feel how sound completely envelops you and how quickly it reacts to changing dynamics in soundtracks. With 11.2 channels of processing and balanced XLR preamp outputs, this component offers incredible flexibility for setting up serious home theater systems. Pair it with a solid multichannel power amp, and you'll hear how far the possibilities of home theater have come.

Dolby Atmos adds a new dimension to sound
Dolby's latest surround sound technology brings a new level of immersion to your home theater. By employing in-ceiling speakers or special Dolby-enabled upward-firing speakers that reflect sound off your ceiling, Dolby Atmos offers a greater sense of space, for sound that's more three-dimensional. Already at work in film production studios and many movie theaters, Dolby Atmos represents a huge step in putting more "theater" into your home theater.
The AV7702 offers multiple setup options for Dolby Atmos. For instance, you can add four overhead or up-firing speakers to a conventional seven-channel system — this is referred to as a 7.1.4 Dolby Atmos setup and is the recommended standard for the best experience. Here's a breakdown of all the Dolby Atmos speaker configurations this component supports:
7.1.4 - seven conventional surround speakers, one powered subwoofer, and four overhead or height speakers (recommended)
9.1.2 - nine conventional surround speakers, one powered subwoofer, and two overhead or height speakers
7.1.2 - seven conventional surround speakers, one powered subwoofer, and two overhead or height speakers
5.1.4 - five conventional surround speakers, one powered subwoofer, and four overhead or height speakers
5.1.2 - five conventional surround speakers, one powered subwoofer, and two overhead or height speakers
You can use as many as four subwoofers with any of these configurations.
Smartphones, tablets, computers, and online music services all play here
If much of your music listening takes place in the digital domain, you'll be impressed with the AV7702's many digital music features. Built-in Wi-Fi makes it easy to connect to your home network. From there, you can play music wirelessly from networked computers and NAS drives. Apple® users can stream tunes from an iPhone®, iPad®, iPod touch®, or a computer running iTunes® with AirPlay. Or, connect your iPod® or iPhone to the front-panel USB port and control it with the included remote.
Android™ users will appreciate Bluetooth connectivity, for wirelessly streaming audio from any app on your device. Spotify® and SiriusXM subscribers can listen to their favorite playlists or stations. Plus, there's built-in support for Pandora® and hundreds of free online radio streams. Into high-resolution music? The AV7702 can play files with sampling rates up to 24-bit/192kHz, as well as DSD files.
Branch out to three rooms
The AV7702 has the processing to play different music in as many as three rooms simultaneously. Want to add video to another room? The Zone 2 HDMI output allows you to watch different video content at the same time in each zone. There's also a third HDMI output for connecting both a projector and a TV in your main zone.
4K upscaling for Ultra HD TVs
The 4K Ultra HD revolution is here. The AV7702 offers 4K picture quality with your Ultra HD TV and can upscale lower-resolution signals to 4K. This ensures you'll get crisp, clear picture quality with all your video sources. This receiver is not HDCP 2.2-compliant and will not support copy-protected 4K video content.
Setup help and Audyssey "Platinum"
A feature-packed component like the AV7702 is only as good as your ability to set it up and control it. Marantz's setup assistant guides you through all your connections and settings right out of the box. Just connect your TV with an HDMI cable and you'll be ready to get started. Audyssey's Platinum suite of speaker calibration offers some cool features, including independent calibration for dual subwoofers.
Smartphone and tablet control
When your system is ready to roll, download the free Marantz Remote app for your Apple or Android device. It's an easy way to control this preamp/processor over Wi-Fi, giving you an intuitive touchscreen interface to change sources, play digital music, and operate key features.
Highlights:
Processing:
Dolby® and DTS® surround sound decoding
Dolby Atmos processing for use with in-ceiling or "height" speakers for more enveloping surround sound; compatible with 7-, 9-, or 11-channel setups
video upconversion (up to 4K) for analog and HDMI sources
Audyssey "Platinum" speaker calibration and system optimization includes:

MultEQ® XT32 advanced auto setup and room calibration uses high-resolution digital processing filters to deliver balanced, dynamic sound to as many as 8 listening positions (expandable to 32 with a professional installer)
DSX® (Dynamic Surround Expansion) optimizes "front height" or "front width" speakers to create a larger soundstage with more engaging surround effects
Audyssey Dynamic Volume mode to keep listening levels steady
Audyssey Dynamic EQ for fuller sound at lower listening levels
Sub EQ HT provides individual calibration for dual subwoofers, for even bass response throughout the room
Low Frequency Containment reduces the amount of bass that bleeds into other rooms
Digital Music Options:
built-in Wi-Fi for listening to music from a networked PC, free Internet radio, and music services

includes support for Pandora, SiriusXM, and free Internet radio streams with vTuner (subscription required for some services)
Spotify Connect lets you play Spotify's streaming music library through the receiver via your smartphone or tablet (requires Spotify app and a premium subscription)

Apple AirPlay for streaming music from an iPhone, iPad, iPod touch® or computer running iTunes®
built-in Bluetooth for wireless music listening with smartphones, tablets, and compatible computers
front-panel USB input for connecting an iPod®, iPhone® or thumb drive

direct digital connection for iPod or iPhone bypasses the device's digital-to-analog converter for better sound

plays high-resolution digital music files via USB storage device or a networked computer (PCM up to 24-bit/192kHz resolution; DSD up to 2.8 MHz .dsf files)
DLNA certified for streaming music with compatible devices and computers
M-DAX™ (Marantz Dynamic Audio eXpander) for better sound from MP3s and other digital music files
Multi-room Audio:
three-room/three-source output
line-level outputs for Zones 2 and 3
Zone 2 HDMI output for watching video content from different sources in two rooms simultaneously
component and composite video outputs can be assigned to Zone 2
Connections:
11.2-channel balanced XLR outputs
13.2-channel unbalanced RCA outputs
HDMI 2.0 audio/video switching: 8 in (includes 1 front-panel input), 3 out
component video switching: 3 in, 1 out
composite video switching: 4 in, 2 out (includes front-panel input)
digital audio inputs: 2 optical and 2 coaxial
6 analog stereo audio inputs (including front-panel input)
phono input for connecting a turntable
7.1-channel preamp inputs
Ethernet port for wired network connection
RS-232C, IR, remote, and 12-volt trigger connections for use with external controllers
1/4" headphone output
detachable power cord
General Features:
4K/60p and 3D video pass-through

This receiver is not

HDCP 2.2-compliant

and will not support copy-protected 4K video content.

free Marantz remote app lets you use your Apple or Android device as a Wi-Fi® remote
Setup Assistant guides you through the initial connection process and settings
intuitive, full-color on-screen guide
Video Select lets you listen to music while watching video from a different source
HDMI standby pass-through allows HDMI switching without powering up receiver
built-in HD Radio™ tuner
AM/FM tuner
remote control
17-3/8"W x 7-5/16"H x 15-7/16"D
weight: 22.5 lbs.