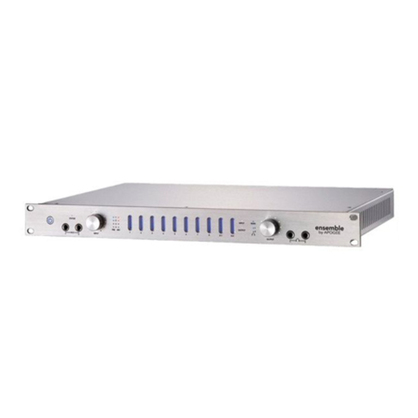 Apogee Ensemble Firewire火线音频接口
¥382.80
Ensemble from Apogee is a digitally controlled, professional audio interface designed specifically for the Macintosh. The unit features thirty-six channels of simultaneous audio, including eight channels of Apogee's A/D and D/A conversion and four transparent, digitally controlled 75dB microphone preamps.
Housed in a single space rack mount chassis, Ensemble includes eight channels of ADAT I/O, two channels of S/PDIF coaxial and optical I/O and FireWire connectivity to and from the computer. Everything from microphone preamp and output gain to sample and bit rate selection is controllable from within Logic's Apogee Control Panel, making Ensemble a complete and compelling digital audio work station for the Mac.
Ensemble also includes premium Apogee technologies such as "SoftLimit," "UV22HR" and "Intelliclock." These technologies combined with converters that set the standard for the audio industry make Ensemble an ideal choice for professionals seeking a high-definition, integrated solution that's incredibly easy to use.
Multi-channel analog to digital and digital to analog converter with dedicated microphone inputs
FireWire 400 I/O, compatible with OS X Core Audio (no driver required)
Eight channels of premium 24-bit/192kHz AD/DA conversion
Four digitally controlled microphone preamps with 75dB of gain
Two fully balanced inserts on the first two microphone preamp channels
Four Hi-Z inputs capable of handling instrument level
Two individual, controllable and assignable high-level headphone outputs
Two, six or eight channel monitor outputs
Eight channels of ADAT I/O
Two channels of SPDIF I/O
Stand-Alone mode provides the option of using the Ensemble as a high-end converter and microphone preamp, independent of the computer
Maestro mixer and routing settings now located in Ensemble's non-volatile memory, enable storage of settings in the unit
Apogee's "Soft Limit" for maximum digital input level without generating "overs" during loud passages
"UV22HR" for superior dither of 24-bit resolution audio down to 16-bit for CD creation
Advanced, dual-stage "Intelliclock"
Apogee's Maestro Software for advanced control and routing outside of Logic Pro
Complete integration and control with Apple's Logic Pro Software
Compatibility with any Core Audio software applications